BEHIND THE SCENES OF HAIRVIVI WIGS-How Hairvivi Wigs Are Made And The Differences With Others
You have found that lace wigs are hard to get on market. You may wonder why? Actually, it is caused by COVID-19.
The handmade lace frontal part of tying the hair to lace was produced in North Korea. But affected by the COVID-19, they have to shut the country's borders, which directly caused the lack of lace frontals - the most important part of lace wigs. So wig companies have to rely on domestic labors with higher cost but lower production rate. So some of companies deducted their labor cost by lowering their standard for lace frontals to get higher profit.
But at Hairvivi, despite the pandemic hitting us hard too, we insist on high standards for our frontals while taking measures to producing lace wigs. Though the production rate is low due to the lack of labors with experience and skills to meet with our high standards. But we still decided not to sacrifice our high quality standard for lace frontals to get high productivity. You may wonder, what's the low standard and high standard for lace frontal part? Okay, we have something to tell you already.
The strands of hair are tied into the tiny holes on the lace, step by step. This process goes all the way from the back of the lace to the front and for the frontals,.
But, Hairvivi's biggest secrets are that we take every single strand and fix it into the lace holes one by one. Yes, ONE STRAND AT A TIME! By doing this, we are able to give our wigs the "pre-plucked" hairline which makes wigs look as real as a weave-on. This always takes us hours than other companies to complete but the end product is worth every minute spent.   
While other companies knotted 4 strands of hair or more one time which is easy to process and takes less time to finish with lower labor cost. but the result is that the knots are unsurprisingly invisible. The following vid may help you understand this in a clearer way.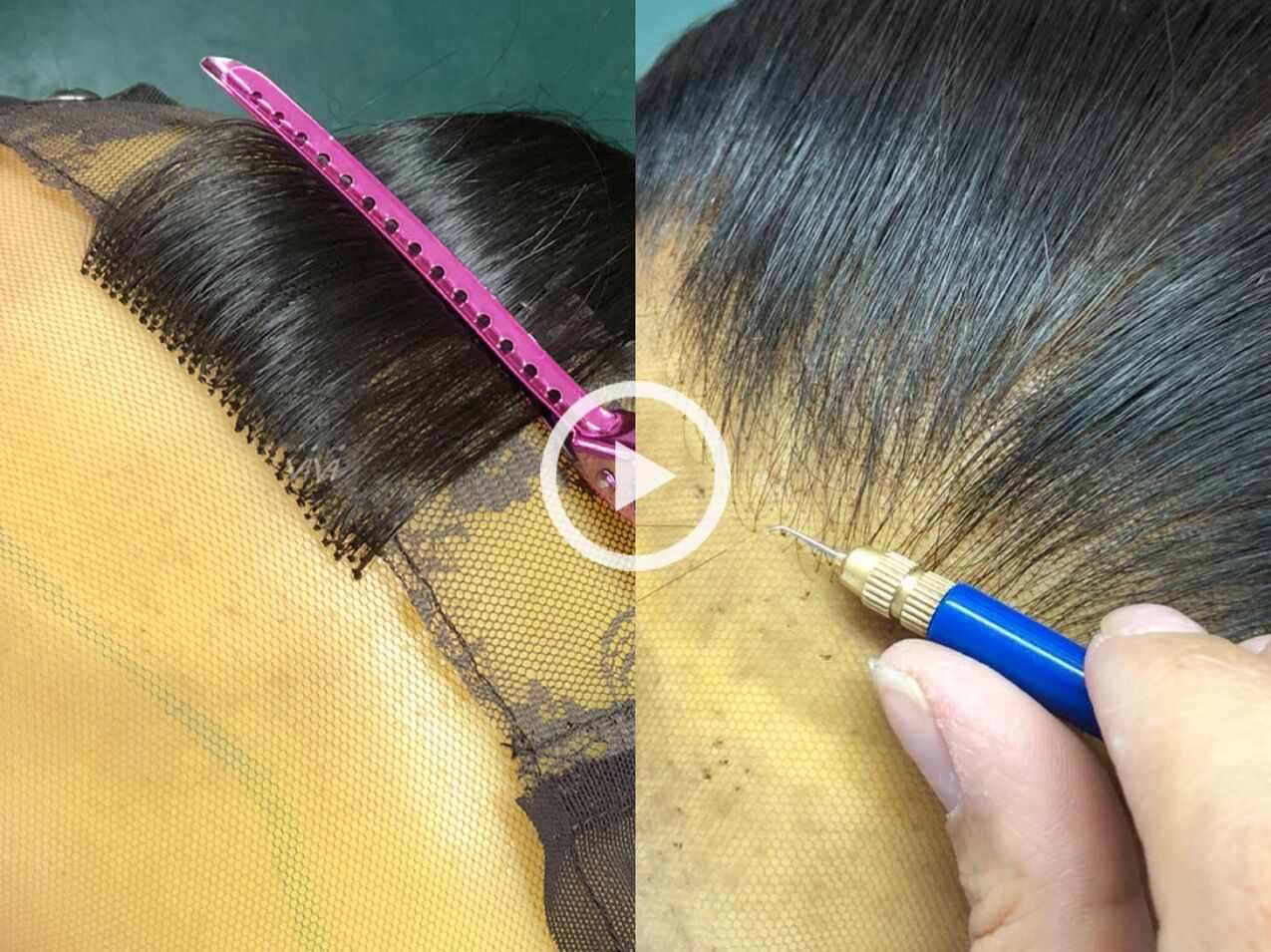 From full lace wigs to lace frontals, Hairvivi has been on the frontline producing some of the most durable and sleek wigs attainable anywhere. The production team dedicates their entire time and skill to achieve this which is no surprise to see our clients making bulk purchases. In all our years of existence, one thing that has made Hairvivi stand out is the quality of expertise that goes into making each wig. Every wig that comes out of our factory goes through multiple manual processes thereby eliminating the errors involved with automation.
Today, we would be walking you behind the scenes of how all our wigs are produced at Hairvivi so stick around if you would love to know our secret.
How Hairvivi Wigs are Made.
When the production team draws up a plan to produce any type of wig at all, they have to take into cognisance the fact that it must be achievable manually. So, irrespective of the type of wig being made, these are the steps we take:
Choosing the perfect hair type. This should obviously be the first step in manufacturing wigs as the hair type determines what the end product would look like. If we are going for a human hair look, we pick 100% human hair strands as we do not take pride in misleading our clients. The team in charge goes scouting for the exact hair type, hair texture and hair colour that is desired to produce the wig in question. Anything short of premium quality is discarded. We rather make 100% synthetic than infiltrate our human hair with something else that looks like it.

Constructing the wig cap. Contrary to many other wig types in the market, Hairvivi's wigs do not need to be worn with a cap underneath. After deciding on which hair to use, we go ahead to pick the right cap and design it to suit the wig we intend to produce. The construction of the wig cap is also sown manually by the team from start to finish so our clients never have to worry about the seams falling off. The finishing is always neatly done and one could mistake it for a machine-sewn cap.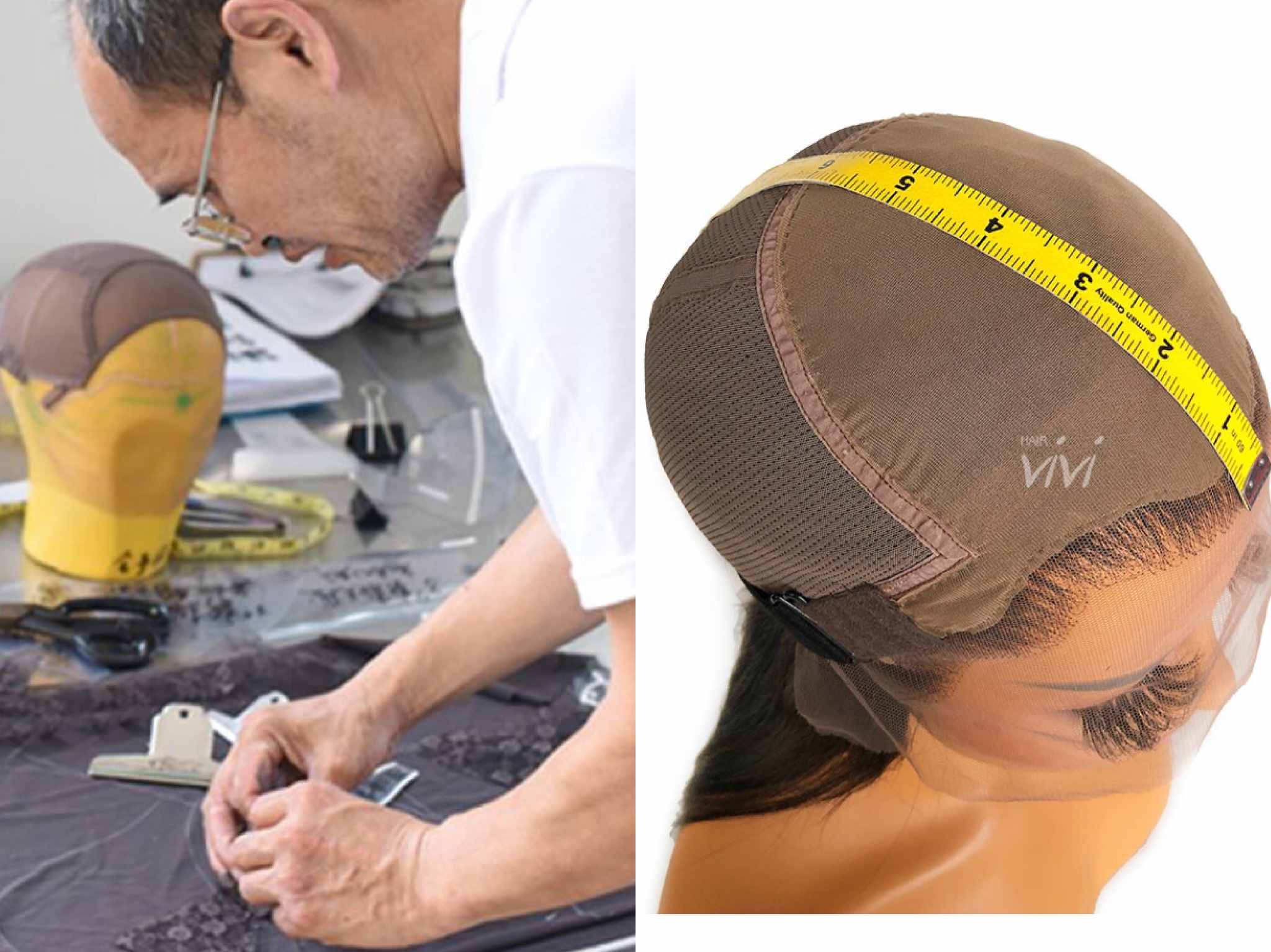 Attaching the scalp to the wig. When the wig is all done, the next thing we do is place it on the fake (but hyper-realistic) scalp. The scalps are carefully picked by the team and designed to suit the style of the wig being produced. This is why our clients do not have to pre-order a wig cap before or after purchasing a wig. The scalp looks as real as our natural scalps and so, they blend well with the scalp when placed on the head. In addition to this, the scalps are compact so they do not loose after multiple usages.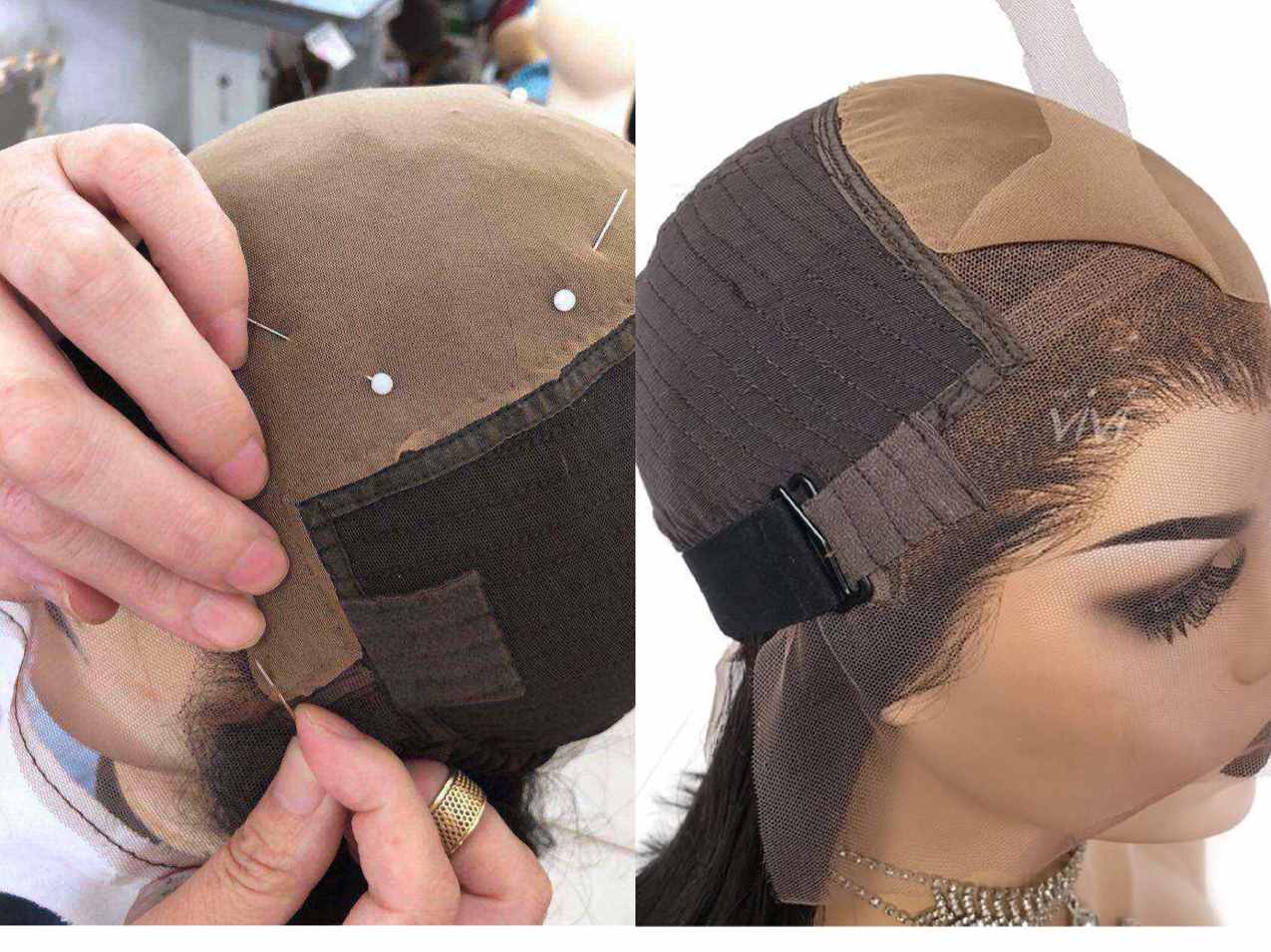 Bleaching the knots. Over time, we have utilized different bleaching methods for our wig knots but only recently, we stumbled on the perfect technique. The bleach is applied to the knots using a brush and allowed to settle after which it is carefully taken off to reveal a properly bleached knot. The wigs are a testament to how effective this method has been.
Now that we've finally revealed our secret to achieving the unique wigs that make our clients feel over the moon, we believe it is also important to point out some of the significant specs in our wigs. This would help you identify a Hairvivi wig even if the label has been removed.
The Difference between a Hairvivi and other Wig Production Companies.
As we have already emphasized, Hairvivi wigs are hand-tied and this feature alone makes a whole lot of difference between our wigs and any other wig out there. Nonetheless, these are some of the benefits and characteristics of Hairvivi wigs.
We own our production line and as this gives us the luxury of handpicking and designing our wigs from start to finish. Not too many companies have this which is why they order for predesigned wigs and then wrap up the finishing themselves. It is for this reason that we can customise wigs for clients from the hair type down to the packaging knowing fully well that we control everything from start to finish.
Our wigs are worth their price tags. Hand-producing any item at all is not easy which is why our wigs are not sold at giveaway prices. Most brands who sell wigs at ridiculously cheap rates employ machines in producing their wigs and so, they have every reason to lower their prices because they do not spend so much time and effort paying attention to details like we do. This is why we can proudly say that our wigs are affordable for the quality that they offer.
You do not need to go an extra mile after purchasing a Hairvivi wig. This is because our wigs come pre-fitted with a wig cap and realistic scalp that gives the perfect look to your edges. You can part the wig in any style without having to worry about revealing your hair beneath it or announcing to everyone that you are putting on a wig.
Hairvivi has a range of wig textures, style and colours to choose from. We understand the stress involved in having to fix a weave-on or fit a cap before using a wig and we have taken it upon us to save you all that stress. Simply check out our social media pages for a catalogue of our products and you would be on your way to achieving the classy, chic look you've always desired.